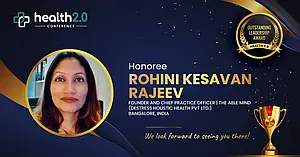 15-Dec-2022
Rohini Rajeev
443 views
Health 2.0 - Outstanding Leadership Award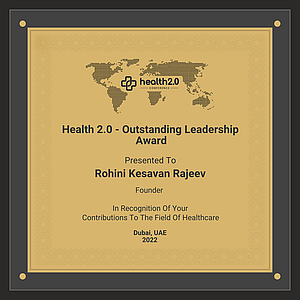 It is with immense pride that we are happy to announce that Rohini Rajeev, Co-Founder and Chief Practice Officer at The Able Mind has been honored with the Health 2.0 - Outstanding Leadership Award. This recognition was decided on 5 parameters - 5 parameters, Leader's Reputation, Educational Background, Professional Experience, Creative Thinking and Decisive Leadership.

Rohini was conferred the award at the Health 2.0 Conference Dubai (Winter '22) conducted between 16th - 18th December, 2022 (
https://www.health2conf.com/past-awardees-dubai-winter-2022
). She was also a speaker (
https://www.health2conf.com/speakers
) at the conference and participated in the panel discussion on "
Remote Healthcare Solutions Paving The Way For A Better Digital Patient Journey
" where she spoke about the importance of Preventive and Proactive Mental health counselling and the effective use of technology to connect people with mental health professionals to help them on a daily basis.
The Able Mind congratulates her on this wonderful achievement and she is fully deserving of this award given her invaluable contributions to the field of psychotherapy.
-The Able Mind