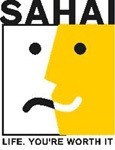 10-Sep-2018
Rohini Rajeev
83 views
Say Yes to Life
The room was tiny and sparsely furnished. A small table and two chairs facing a tiny glass window that opened out to the compound wall... There were a few posters stuck on the walls of the room with positive quotes on them, one of them however was white and yellow... it was a sketch, of a perfectly symmetrical face ... only the expressions differed... from sad to glad... and written in bold on that poster the word- SAHAI. 'Sahai' in Devanagiri script meant 'Help'. But it wasn't the poster that sent a shiver down my spine, it was the small dark blue Beetle telephone placed conspicuously on the table, bang in the middle, that did! There was also a register for the Volunteers to enter details: -Date -Number of hours the helpline was operational. -Number of calls received. -Attended by (Telephonic Identity & Real Identity). -Next duty date. -Intervention(although Not exactly written this way, definitely along those lines) .
The phone sat there on the table feeling important and ready to ring. It was not just any number. It was Bangalore's first ever Suicide Prevention Helpline. 080 25497777. It was not just any phone. It was a life line. And I'm certain that somewhere it knew...
The walls of the small room reverberated each time the phone rang. Like once was not enough. And it made me feel like one could never answer this life line (impersonating as a telephone line) fast enough... However the phone did not always ring. In fact some days it didn't ring at all or when it did it would be someone calling the Half way home... or maybe the local grocer... but then... those calls were infrequent. The real calls however, did come. Calls from those who were looking to hold on to any small rope that their tired and worn out hands could reach, too weak to hold on but not ready to give-up just yet...maybe it's not yet time... maybe they knew that someone on the other end of the line would really care...
Every time the phone rang, it took me, like it did all my other friends(exceedingly well trained volunteers) a few seconds to compose myself, ignore the hyperventilating heart that was racing like a time bomb and answer that call. All of us volunteers sincerely hoped that the callers hear it in our voices that we are here to help, hear it in our attitude that no matter ,what we will not judge them, hear it in our tone that we are extremely grateful that they called... because they chose life and that takes courage!
Most of the time the callers spoke for hours. Most of the time they called back. Sometimes to tell us that they are changing the way they think...Sometimes to discuss something else that was bothering them...Sometimes to ask us if they could meet us because they wanted to put a face to the name and were besides themselves with gratitude to this stranger on the phone! Each time we answered them...politely diffusing the tension and tactfully avoiding questions that could lead to familiarity.
But many a time it also happened that once was all they called.
As Volunteers of a Suicide Prevention Helpline we could neither celebrate a success nor be disheartened by a setback. We were taught to practice even-mindedness. Stay calm no matter what. Because when someone calls you to tell you they want to die, and they tell you that they are calling with a knife in hand or a bottle of pills by the bedside and call to you to try and stop them... it is important to stay calm. It is imperative to not let your fear figure its way into your responses.
It has been many years since I have had a chance to go back to being the chosen one... But those few years of volunteering I did 15 years ago changed my life forever. It changed how I looked at problems...at people... Empathy was always there, when one works in Rehabilitation, one can't be true to oneself or to one's Clients without being empathetic; but dealing with Deliberate Self Harm is a different ball game altogether. The training we were given (by Professors from NIMHANS and The Medico Pastoral Association, initiated by the Rotary Bangalore East) was absolutely phenomenal and the biggest reason why we were brave enough to answer the calls, and sustain them without having a meltdown... But, nothing prepares you for what you hear... some problems were so devastating, some people in so much misery that it was gut-wrenching.
If this experience does not help us put things in perspective then nothing else will.
Life as I know it has never been the same after that. I'm grateful for that opportunity and to all those people who trusted me. Somewhere I hope they are still holding on... and will never give up. The words spoken to me by most of them are still etched in my mind. Some invited me to their weddings, some sent precious thank you gifts to the Center where the helpline was operated out of. But the words of one of my callers keeps playing back, in my mind, to this day... like a song in my heart...giving me hope and propelling me..." I wish every time the phone rings... you answer it K!"
I do not believe that only training enables us to help someone choose life. We should help simply because life has chosen us. We only need to pay it forward. If we only notice one change... if we only stop once to care... if we only looked around us... we will see what we need to see and hear those who want to be heard... Cause life is worth it! All it takes is for us to make one other person believe in that too...
-Rohini Kesavan Rajeev
Founder, The Able Mind